Today our guest is a really special and beloved friend of mine – Sandi Stuart.
I met Sandi studying IBP – or Integrative Body Psychotherapy – which I've talked about a variety of times on the show. Sandi was one of the teaching assistants for my class and over the 3 years going through this program she was an incredible teacher and support system to me and I got to know her in such an intimate way. (Sadly this particular class is no longer offered- but there are many other resources I will provide in the show notes if you want to learn more about IBP)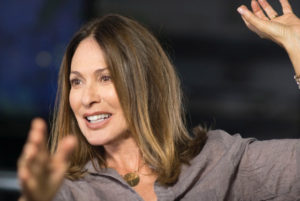 Sandi has been a trailblazer for women. She was one of the first female sales executives in the men's clothing business. She started her career as an outsider and worked her way up the ladder becoming the executive vice president at Bugle Boy Industries. During her 25-year career at Bugle Boy, she helped the company grow from $0 to $500 million annually. Now she is the co-founder of Agency Licensing and also works as a life coach and leads transformational workshops. In addition to consulting on issues important to women in business, Sandi focuses on providing and sharing practical consciousness for women entrepreneurs.
Sandi is such a wise soul and someone who I deeply respect. She has a thriving marriage, a great relationship with her daughter, a fulfilling and successful career and most importantly – a deep connection with herself.
---
In Today's Episode We Explore:
Sandi's personal journey of self-discovery and healing
How her trauma as a child manifested in her body as an adult
The connection between the body and our emotions
How she reconnected with her authenticity
Why she wore a baby carrier with no baby in it!
Her experience working in a male dominant industry
And much much more!
We recorded this interview at Sandi's beautiful home in Malibu, overlooking the mountains and the ocean. It was such an intimate chat. I hope you enjoy!
---
Listen Here!
---
Resources from the Episode:
Integrative Body Psychotherapy (IBP) Website
Cutting Edge Consciousness Podcast
---
Let's Connect!
I would love to hear your feedback and get to know you guys so if you have topic requests or guest suggestions or just want to say hi – you can reach me at [email protected] or on social media below