Today we have the lovely Sonia Doubell on the show. Sonia is a master yogi and fellow seeker. She is the Founder of Moving Energy Yoga & Creator of TOTAL BODY YOGA AM/PM.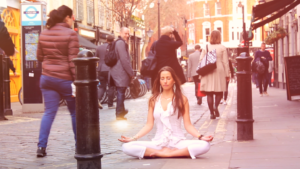 As a Yoga Alliance Senior Teacher, NLP practitioner, Hypnobirthing teacher and Life Coach Sonia is passionate about sharing the potential of self-realization through yoga.
Sonia began her working career as a model. She had what many would consider to be a glamorous lifestyle but even after checking all the boxes "to be happy" Sonia found herself dissatisfied and empty. Yoga became the key to unlocking a much richer, more fulfilling, inner life.
Now, her yoga method has taken her all over the world, from teaching actors in Hollywood to Richard Branson on Necker Island.
Sonia is known for her unique style of Moving Energy Yoga. She believes yoga has the ability to transform difficult emotions, unlock deeply held tension in the body and open the heart.
I've always been active and into sports and exercise but nothing has transformed me, mentally, physically and spiritually like yoga has. We cover a lot of ground today and speak about many things besides yoga. However, I definitely wanted to touch on the power of yoga as it's played such a huge role in my journey of self-discovery and I realized we haven't spoken about it nearly enough on the show.
---
In today's show we discuss: 
Sonia's personal journey of self-discovery
How the breath effects our emotions
Why yoga is so transformational
The importance of practicing relaxation
How being a mother has healed her
How she brings mindfulness into parenting
And much much more!
---
Listen Here!
---
Resources from the Episode:
Sonia website – http://www.soniadoubell.com/
Sonia's Instagram – @sonia_doubell_yogi
Byron Katie's – "The Work"
BOOK: The Chimp Paradox by Steve Peters
BOOK: The Power of Now by Eckhart Tolle
BOOK: The Lost Teaching of Yoga by Georg Feuerstein
---
Let's Connect!
I would love to hear your feedback and get to know you guys so if you have topic requests or guest suggestions or just want to say hi – you can reach me at [email protected] or on social media below