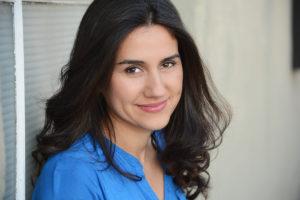 Hey guys! Today's guest is Shabnam Mogharabi, a social media executive, award-winning journalist, and NY Times bestselling author. She is the CEO and Executive Producer of SoulPancake, an award-winning media and entertainment company founded by actor Rainn Wilson – also known as Dwight from "The Office."
Similar to this podcast, SoulPancake explores 'Life's Big Questions.' This year Fast Company named SoulPancake one of the "The World's Top 10 Most Innovative Companies of 2015 in Video." Their mission is to spread joy and celebrate the human experience by producing and curating uplifting, thought-provoking content that is distributed on television, online, at live events, and through branded engagements. Talk about an inspirational intention. In a world where media can be incredibly negative SoulPancake is a breath of fresh air and Shabnam is at the heart of it.
If you haven't heard of SoulPancake – check out their YouTube channel. They explore topics like joy and gratitude and what really makes us happy. I sometimes binge watch their videos if I'm in a bad mood and I instantly feel better. Check out the links to my favorites below.
In today's show we explore:
Positive psychology & the science of happiness
The power of vulnerability
How to fall in love with anyone
Why you need to put your phone away
The imposter syndrome
How she inspires creativity in her staff
And much much more
Listen Here:
---
I love this video from SoulPancake –
What you'll hear in this episode:
---
Let's Connect!
I would love to hear your feedback and get to know you guys so if you have topic requests or guest suggestions or just want to say hi – you can reach me at [email protected] or on social media below