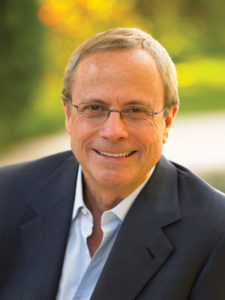 Welcome! Do you need help managing your time and being more productive? Is your life—and your brain—cluttered with a zillion items on your "to-do" list? I have the answer for you! Meet David Allen, a consultant and the author of "Getting Things Done: The Art of Stress-Free Productivity." His clearly defined methodology holds answers for you in managing your life's work, from the personal to the professional.  I was SO excited to have David on the show as I am a huge advocate of the GTD way.
David Allen is widely recognized as the world's leading authority on personal and organizational productivity. Forbes named him one of the top 5 executive coaches in the U.S. and Fast Company Magazine named him one of the world's most influential thinkers on personal productivity.
David's internationally bestselling book "Getting Things Done: The Art of Stress-Free Productivity"  has attracted a massive following of devoted fans who swear by his technique. (including me)
The "Getting Things Done" methodology, also know as GTD, has shown millions how to transform a fast-paced, overwhelming, overcommitted life into one that is balanced, integrated and relaxed. Time Magazine proclaimed "Getting Things Done" to be 'the definitive business self-help book of the decade."
But this technique isn't just for work – it's a proven path for getting control of your life.

In today's show, we discuss all things PRODUCTIVITY. 
David walks us through his step-by-step process of "Getting Things Done"
We learn the 5 simple steps to apply order to chaos
David shares his "2 minute rule" for checking things off your to-do list
Why do we procrastinate?
And we discuss the importance of honoring our commitments to ourselves and why that is sometimes difficult
plus much much more
What you'll hear in this episode:
How David ended up where he is today
David makes the distinction between what the brain was designed to do and what we want it to do.
We try to keep track of everything internally and overload our brains.
Understanding "The Open Loop"—loose ends cluttering up our head space
Five Simple Steps to help apply order to chaos: Capture, Clarify, Organize, Reflect, and Engage. David explains each step and how to apply it to life.
David's "Two Minute Rule" for getting things done
Why his model is a holistic plan, going through ALL the steps to get really clear.
We each have a comfort zone for unprocessed stuff.
Why we keep deadlines and commitments to others, but often NOT to ourselves
David's plan can bring you success in ONLY TWO DAYS! It may take up to two years to become a habit.
Why do we procrastinate? We are afraid to fail, so we don't start. It's the perfectionist trap.
David shares his morning routine. You may be surprised at his priorities!
Why your lists and processes need a weekly review
Why are we here? "To experience who we are at multiple different levels and explore that so we return back to the essence of what we came from"
Connect with David:
Getting Things Done: The Art of Stress-Free Productivity by David Allen
Audiobook Versions:
If you are looking for the audiobook versions of Getting Things Done, please click here for CD and download options.
---
Let's Connect!
I would love to hear your feedback and get to know you guys so if you have topic requests or guest suggestions or just want to say hi – you can reach me at [email protected] or on social media below