Today we're talking to the superhuman couple – Claudine and Honza Lafond.
This husband and wife duo, knows a thing or two about living the life of their dreams.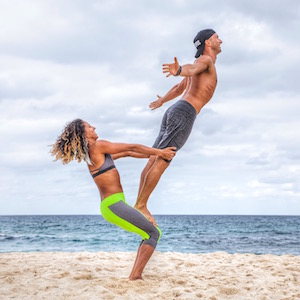 They are the founders of YogaBeyond®, a brand built on the practice of yoga, trust and community. And the creators of ACROVINYASA™ which is a combination of vinyasa, acroyoga and inversion training. Think – partner yoga with a twist!These two lovebirds, who are based in Sydney, travel the world teaching yoga together. And they are passionate about encouraging others to follow their bliss as well. If check out their instagram account @yogabeyond you will be in awe of not only the crazy poses they do together but of the palpable love they share.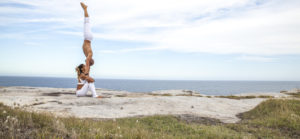 My husband and I met them when we went to their ACROVINYASA™ teacher training in Bali. Here we are sneaking in a smooch 🙂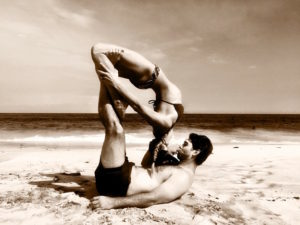 In today's show we explore:
How Honza went from suicidal thoughts to living with blissful gratitude & joy
Why suffering usually gives birth to our greatest gifts
Why it's important to unpack our beliefs and how we can preprogram them
How to attract more of what you want into your life
How they have never had an argument 

in 9 years

And what they do to keep their marriage happy and fulfilled
And tons more..
Listen here:
In this show you'll learn:
Why following your bliss isn't unrealistic
You can shape a different life for yourself if you aren't feeling good about what you do
Following your bliss is a process, not an event
Using the creativity of your mind to create belief systems around your life
How Honza moved to Australia and turned his low moment into a breakthrough
Why looking for different answers to the same questions everyone has can lead to a different outcome
The specific practice you can use to clean up your vibrations around certain aspects of your life……all of us can relate to money issues
How Honza created much more wealth with much less effort
What is ACROVINYASA™ and how they created it
Why suffering may need to happen in your life
Why you don't have to inherit everything that your family is
How they live in relationship consciously and that leads to relationship harmony
Listen to hear how a painting helped Honza manifest his ideal relationship
How "love at first sight" happened when they finally met in person
Why they don't watch TV, and instead listen to other things
Why Chia Seed pudding causes Claudine travel problems
How they cultivate a "go with the flow" attitude while living with intention
Why you should be okay with getting a little out of balance sometimes
Resources:
TED talks they love: 
Jill Bolte Taylor – My Stroke of Insight
Books they recommend:
The Untethered Soul – Michael Singer
The Power of Now – Eckhart Tolle
Law of Attraction Books by Esther Hicks
---
Connect with Claudine and Honza:
---
Let's Connect!
I would love to hear your feedback and get to know you guys so if you have topic requests or guest suggestions or just want to say hi – you can reach me at [email protected] or on social media below