Our guest today is Integrative body psychotherapist Beth Bardovi, MFT.
First off, Integrative Body Psychotherapy, or IBP, is a type of psychotherapy that recognizes and treats the physical, psychological, and spiritual nature of a human being. It is based on the premise that the body, mind, and spirit are not separate, but rather integrated parts of a whole person. Unlike other modalities, IBP puts a strong emphasis on breath and bodywork to promote mindfulness and alleviate depression and anxiety.
Beth is the Director of the IBP Central Institute, Los Angeles and the Executive Director of IBP Italy. And has been in private practice for over 30 years in Santa Monica. She is a wise soul.
So today, Beth helps us learn more about where our fears come from and how we can begin to heal these wounds so we can lead a more authentic and fulfilling life.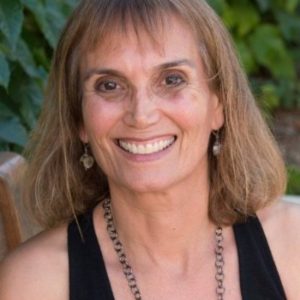 In today's episode we cover a lot of ground today including:
-Why we recreate the same problems over and over again and how to stop self-sabotaging behaviors
-The different types of masks, facades and mechanism we created when we were young and how they play a role in our life today
-How we develop our triggers or sensitivities.
-Why working with the body is an important component in creating lasting emotional change
-and tons more
Listen here:
In today's show we explore:
Your Core Self: the essence of who you are
Being disconnected from authenticity—Why does it happen?
Parents and young children: the energy connection
Children disconnect if parents aren't available
The range of Abandonment to Inundation: too much or not enough?
The crucial time is the pre-verbal development
The difference between IBP and Talk Therapy
Become aware of holding patterns
Different breathing for different purposes
Sympathetic vs. Parasympathetic nervous systems
For older kids, it's attaching beliefs to feelings
Character-style defense mechanisms
Signs of fear of abandonment
Signs of fear of inundation
Find a balance in the middle
Agency toward others—it's about the intention we bring
Crippling feelings
Active agency vs. loving
Triggers: How do we identify them?
Triggered and fragmented: the same, similar, or familiar feelings
Expecting perfection? Impossible!
Perceptions are everything
New triggered reactions to our oldest injuries
Steps to dismantling
Connecting body, understanding, and emotions
The repair process
Wired for survival: capable of change?
Living authentically is a GIFT
It all starts with breath
Beth's daily spiritual practices
Beth's advice and wisdom for herself 20 years ago? "Most things are not really a crisis. Take the time and not just get from A to B."
What has Beth learned about what we're all looking for? "We're all looking to be understood and to feel understood."
What is the meaning of life—why are we here on this planet? "It's all about love. I learned this when my mom was dying. Find the love."
---
Let's Connect!
I would love to hear your feedback and get to know you guys so if you have topic requests or guest suggestions or just want to say hi – you can reach me at [email protected] or on social media below