"The wisest question when we are deeply sad is not, "How can I end or numb this pain immediately?"

The wisest question is, "What is the meaning of this pain? or, "What does it reveal to me? What is it calling me to understand?"

– Marianne Williamson, Tears to Triumph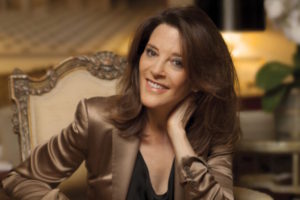 My guest today is one of the most important spiritual voices of our time, Marianne Williamson! This is a HUGE deal. Marianne has been one of my greatest teachers of all-time. She is an internationally-acclaimed spiritual author and lecturer. Seven of her twelve published books have been NY Times bestsellers, and four of them have been at #1 on the list!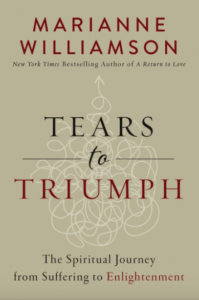 Her mega-bestseller, A Return to Love, is a must-read. As is her newest book Tears to Triumph, which explores the spiritual journey from suffering to enlightenment. This book really changed my perspective on suffering. I HIGHLY recommend checking it out.
Today we talk about suffering, depression and the path to healing.

There's so much value and wisdom packed into this episode, including:
Why suffering is an unavoidable part of our experience? And how can we survive and even transcend it?
Why it's important to be fully available to our suffering, as opposed to suppressing it or numbing it?
What the role of forgiveness and love is in freeing us from our pain
How we can proactively cultivate happiness
The power of forgiveness
The wisest question you can ask yourself when you are deeply sad
and so much more.
Listen here:
In today's show we explore:
Why suffering is a normal part of our human experience
The effects of the numbing of our pain
The medicalizing of human despair—the multi-million dollar business
Why we don't need pills when we really need to "do the work"
The huge black wave of her depression that was unavoidable
Lessons learned in a failed political campaign
The power of surrendering to a higher power in suffering
How to pro-actively cultivate happiness
The importance of DOING for others
Grief: the psyche's "immune system"
Forgiveness of self and others
Meditation to quiet the voice of ego
Relationships: where we come to heal
Taking responsibility for our speech
Buddhist principles -SAY the right thing; DO the right thing
Connect with Marianne and Resources from the Episode:
Watch Marianne's Free Livestream Lectures on Wednesdays
Eckhart Tolle  (When I asked Marianne who she would consider a living enlightened master – this is who she said. Definitely look into his teachings. They will change your life.)
---
Let's Connect!
I would love to hear your feedback and get to know you guys so if you have topic requests or guest suggestions or just want to say hi – you can reach me at [email protected] or on social media below