Today we're talking about the incredible influence that we have to shape our brains, and even our genes!
Did you know that the lifestyle choices that we make today can actually optimize how our genes and brains behave, allowing us to reach a state of health and fulfillment undreamed of even a decade ago!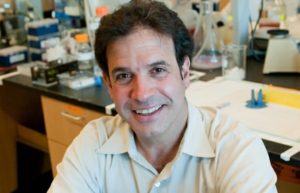 "If you want to know what your thoughts were like in the past, look at your body today. If you want to know what your body will be like in the future, look at your thoughts today."

― Dr. Rudy Tanzi, Super Brain
Our guest is Harvard Neuroscientist Dr. Rudy Tanzi.
Dr. Tanzi is a professor of Neurology at Harvard and Director of the genetics and aging research unit at Mass General Hospital. He is one of the world's foremost experts on Alzheimer's and was named to TIME magazine's 100 most influential people in the world.
Dr. Tanzi collaborated with physician and mind-body expert Deepak Chopra and co-authored two books – Super Brain and Super Genes, both of which absolutely blew open my mind!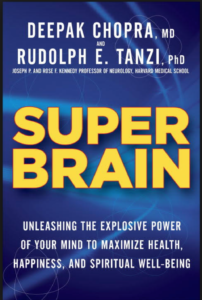 Their first book, 
Super Brain
,
is a manual for relating to our brain in a new way. It shows us how to use our brain as a gateway for achieving health, happiness, and spiritual growth.
And then in their follow up Super Genes – they say that our experiences actually sculpt our genes! Crazy, right?!
They say, you will always have the genes you were born with, but genes are dynamic, responding to everything we think, say, and do. So, we are the user and controller of our genes, the author of our biological story. And our everyday lifestyle and habits, whether good or bad, are changing our gene activity. If that's not empowering I don't know what is!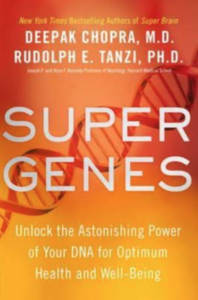 Chopra and Tanzi propose, that through a person's increased self-awareness and conscious intention, the brain and genes can be taught to reach far beyond their present limitations. They say the brain and genes are capable of incredible healing and constant reshaping. And through a new relationship with both you can achieve, what they call, radical well-being.
So in today's episode we discuss: 
How we can actually retrain our brains and genes through our lifestyle choices and consciousness
How to promote happiness and well-being through the mind-body connection
How we can learn to use our brains instead of letting our brains use us
The secret to beating any fixed habit
The 4 areas that need to be in balance in order to operate at your optimal level
The single activity that does the most for your mind and body together
Why your gut directly affects your mood
How we might be passing experiences – including fears or good behaviors – to our children and grandchildren
Why stress is like a poison for your mind and body
Which simple changes in lifestyle can actually boost genetic activity
plus much much more!
---
Listen here:
---
In today's show we explore:
What is the SUPER BRAIN?
Self-identity and self-awareness
Your brain, your choices, your world, and your reality
Four roles of the brain
Don't resist—rewire!
The biggest misconception about the brain
The 3D Brain: Drive, desire, and dreams
Meditation: How it affects genes
How lifestyle affects genes
Epigenetics and how they modify DNA
Soft inheritance: What does it mean?
60 days to change gene expression
Creating radical well-being
The Gut Brain
Less inflammation=better genetic activity
Exercise causes NEW nerve cells in the brain!
How stress is POISON
In Rudy's book: tools for improving lifestyle factors
What Rudy's working on now?
Merging science and spirituality
The most important lesson learned from his work
---
Resources from the Episode:
Super Brain – Dr. Rudi Tanzi and Dr. Deepak Chopra
Super Genes – Dr. Rudi Tanzi and Dr. Deepak Chopra
Connect with Dr. Tanzi!
---
Let's Connect!
I would love to hear your feedback and get to know you guys so if you have topic requests or guest suggestions or just want to say hi – you can reach me at [email protected] or on social media below