Welcome! Today we are talking to, the ultimate champion of the underdog, Reverend Greg Boyle.
Father Boyle is a pastor, activist & renowned speaker. He is also the founder and executive director of Homeboy Industries in Los Angeles, which is the largest gang intervention, rehabilitation and re-entry program in the world.
His list of accolades goes on and on but to name a few…He is the author of the New York Times-bestselling book – 
Tattoos on the Heart: The Power of Boundless Compassion
, which was named one of the Best Books of 2010 by Publishers Weekly. He was the subject of Academy Award winner Freida Lee Mock's documentary, 
G-Dog
.  He received the California Peace Prize and was inducted into the California Hall of Fame. In 2014, the White House named Father Boyle a Champion of Change and in 2016 he received the Humanitarian of the Year Award from the James Beard Foundation, and this is just to name a few!
I was first exposed to Father Boyle through my friends Andrew & Lydia… who highly recommended his book "
Tattoos on the Heart
" which is a series of parables from his two decades working with gang members in LA. I read it and knew immediately I needed to find a way to talk to this guy… his message, his journey and his stories were SO inspirational and talking to him was no different..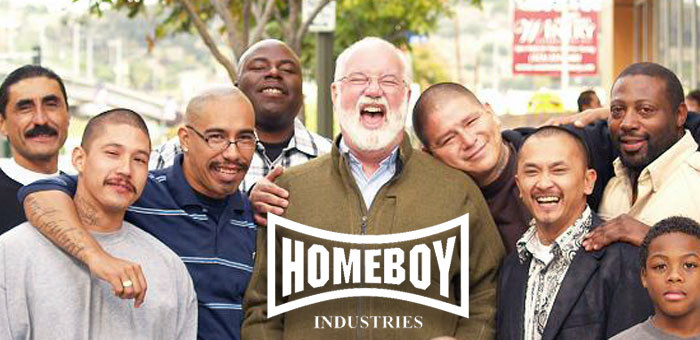 But before we get to our talk… first a little background on how "
Homeboy Industries
" came to be…
In 1986 Father Boyle was appointed pastor of Dolores Mission Church in LA, which at the time was the poorest Catholic parish in the city located between two large public housing projects with the highest concentration of gang activity in Los Angeles.
After having buried an ever growing number of young people killed in gang violence, Father Boyle wanted to address the unmet needs of gang-involved youth by developing positive opportunities for them.
In 1992 Father Boyle launched Homeboy Bakery, and ever since, former enemy gang members have worked side by side, learning both business and baking skills together. The success of Homeboy Bakery created the groundwork for a variety of other similar social enterprises under Homeboy Industries.
Each year over 10,000 former gang members from across Los Angeles come through Homeboy Industries' doors in an effort to make a positive change. Homeboy Industries offers education, therapy, tattoo removal, substance abuse treatment, legal assistance, and job placement services.
Father Boyle is a man who has dedicated his life to helping those in need and more than that he seeks to help people whom most of society has given up on.
In a recent 
open letter
 he wrote – "Homeboy Industries seeks to be what the world is ultimately invited to become: a community of kinship, exquisite mutuality, and tenderness. We stand against forgetting that we belong to each other."
And I think THIS is a message we all need to be reminded of right now. We belong to each other.
In today's episode, we talk about the power of unconditional love, compassion, and kinship. And his belief that every human is inherently good.
---
He tells us:
what he believes we are all longing for
what's more powerful than death
advice for those grieving
what he believes to be the meaning of life
and much much more…
If you're a parent or you're in a service profession where you're trying to help others I think this will be a really valuable episode for you. Actually, I think if you're a human being than this episode applies to you.  🙂
Enjoy the show!
LINKS:
Documentary on Father Boyle and Homeboy Industries: 
G-Dog